Hoosier Open 9-Ball Tour
The Hoosier Open 9-Ball Tour was created to promote the game of pool in Indiana. The tour will kick off for the Second Year October. There will be Ten Stops. Top 3 From Each Spot Goes to Final Tournament. Will Draw 2 Women players to fill a 32 player field for Final Event. Final Event location will be the room that offers the most added money at the end.
Entry is $50 in Advance and $60 at the door each event including final event. $15 Green fees and $5 going towards the final tournament. Each event will add $500 with 32 players or $1000 with 64 players. If event does not get 32 added money will be pro rated at $10 per player. If each event draws 32 $1600 will be in final tournament before entries. If each event was to draw 64 players the Finals event would be $3200 before Entries. Not limiting the fields and these are just what could be if we reach these number of players. The format is open 9 Ball Race to 9 Winners , Race to 7 One loss, Rack your own, Alternate break, 2 Ball Racked in back, No 3 Foul Rule, 9 does not count in any pocket on the break, and Call the 9 Ball.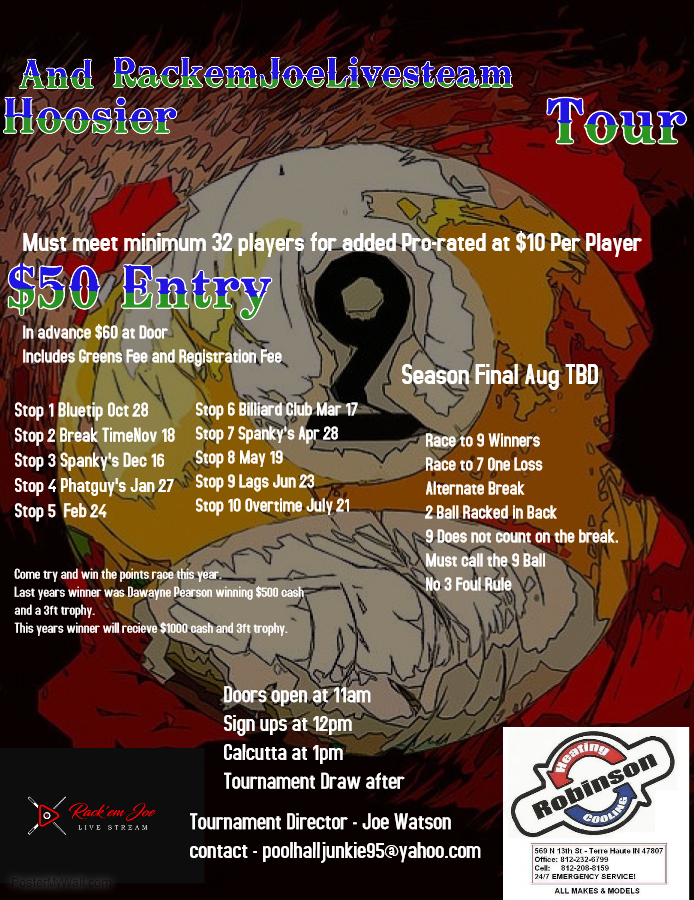 Are you the best in Indiana? Lets find out? New points system implemented. 2 Points for each match won winner side. 1 point for each match won on one loss side. 15 bonus points to Winner.
Feel free to click on stream sponsors logos and visit there website, will open in new tab.